One of the best and truest love stories I've read is the latest book I received through the Barnes&Noble First Look club.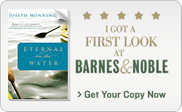 About the book (from Barnes&Noble.com)
When Jonathan Cobb takes a sabbatical from teaching to go out and experience nature as Thoreau did in the early 19th century, he does not expect to meet the love of his life, any more than Mary expects to meet him. But from their first camp side meeting, they know they are soul mates.

Set against the sweeping natural backdrops of Maine's rugged backcountry, the exotic islands of Indonesia, Yellowstone National Park, and rural New England, nature plays a key role in their romance. But

their story is tragic as well as inspiring as their perfect love falls beneath the shadow of her impending fatal illness

, and he must help her make an important and difficult decision.

About the Author
Joseph Monninger has published several award-winning YA novels and three books of nonfiction, including the memoir
Home Waters
, and has been awarded two National Endowment for the Arts fellowships. He lives and teaches in New Hampshire, where he also runs a dog sled team.
I just finished the book last night/this morning;it took me waaaay longer to finish this book than it should have simply because I did not want to separate Cobb and Mary. Their love story was so overwhelmingly real that I could hardly bear to face the end, which of course makes no sense as I already had when I began the book. But emotions, and especially love don't always make sense do they? As for reading the end first (the book begins with Mary's death), I have to say that doing that was the most brilliant thing done technically in this novel. It made it real from the beginning, no false hope about maybe she gets saved at the end, and it let me as a reader focus on what mattered; I got to focus on their story together, and not be distracted that this is fiction and so therefore think that a miracle was in store. Instead I focused on spending as much time with Mary as I could, alongside Cobb.
Reading Eternal on the Water was seriously like just listening to a new friend tell you his life story (thus far) because you've come to that point in the friendship where you really get to know each other; where you both begin to share that intimacy of real friendship by sharing real stories about the deeper points in your life, not just the so-called powerpoint version. And it's that intimacy that's so inherent in this book, that made me care, and respond as if Cobb were truly my real friend.