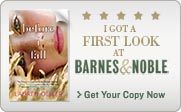 Book Description from
goodreads.com
:
What if you had only one day to live? What would you do? Who would you kiss? And how far would you go to save your own life?

Samantha Kingston has it all—looks, popularity, the perfect boyfriend. Friday, February 12th should be just another day in her charmed life. Instead, it's her last. The catch: Samantha still wakes up the next morning. In fact, she re-lives the last day of her life seven times, until she realizes that by making even the slightest changes, she may hold more power than she had ever imagined.
I am happy that I got the chance to read this book.
Would I have picked it up on my own were it not a B&N First Look?
To quote Sam:
Maybe some time, but probably not.
But like the book showed so well, a million different little things changed that, and I am genuinely happy that it did come into my hands. And that will make a lot more sense to you if you get to read the book, I promise.
At first, I hated the main characters like Lindsay, Ally, Elody, and Sam. I knew, and even still know, people like them. But the evolution of Sam, as well as her revelations on the connectedness of everything let my perceptions evolve along with her.
From the beginning, I was taken with how the author captured things just perfectly. Her descriptions are very current and authentic to contemporary high school life.
She gets the characters so right, down to their "unofficial" H.S. dress code of New Balance sneakers, Northface jackets, and other random things regarded by the characters as the right things to fit in.
I know that the main character's experience is sorta like those of the movies Groundhog Day or Sliding Doors, but really that's only a fraction of it. The amazing insight and realistic events, people, and conversations in the book are extraordinary, and even eerie. Readers will instantly connect with the familiarity of the social hierarchy and mean girls group.
The book is about finding out who you are, love, and redemption. Though it's a bit long, Oliver's writing is so great you hardly notice. I will say that the ending was a bit hard for me to accept but overall I really loved
Before I Fall
. Congratulations to Lauren Oliver on writing something so amazing!